Delta Systems Group – Red Cross Partnership: Using technology to speed up donations
As many Colleges and Universities do around the country, the University of Missouri – Columbia hosts a Homecoming celebration every fall and a Greek Week every spring. In an effort to expand community involvement and provide an outlet for student charitable giving, coordinators of these annual events began incorporating an American Red Cross blood drive as part of the festivities.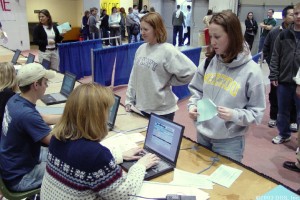 Twice a year, an army of volunteer nurses, student workers, and American Red Cross staff drain thousands of students of a pint of blood each in a one- or two-day sprint to a record-breaking blood drive.
Through the years, the drives have continued to grow in size and have even spawned simultaneous satellite drives in St. Louis, Kansas City, and on other Missouri campuses.
Of course, coordinating the collection of blood products from more than 4,000 people in one or two days can be overwhelming. Trying to funnel that many students into and out of one collection center created a logistical nightmare when the line of donors stretched around the outside of the University's Hearnes Center. Frustrated students and community members spent hours waiting to donate a single pint of blood. Many students were forced either to skip class or abandon their donation efforts.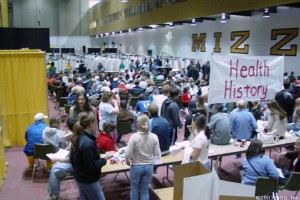 In April 1997, Delta Systems Group was called in to help alleviate the problem. With advice from American Red Cross staffers and MU students, DELTA designed a check-in database application that allows Mizzou student associations to schedule their members' donation times. To make the system practical for students, DELTA created the www.donateblood.com website so each student organization liaison could register their members from anywhere at anytime. The system also allows organizers to ensure that a continual stream of donors is being processed throughout the event by alerting coordinators when too many people have registered for the same time slot.
The MU Homecoming Blood Drive Committee devised a point system to reward organizations whose members showed up on time and, more importantly, successfully donated blood. This point system was then incorporated into both the Greek Week and Homecoming festivities as a major point-gaining event.
For one or two days, the Hearnes Center is converted into a blood collection factory, driven by thousands of students.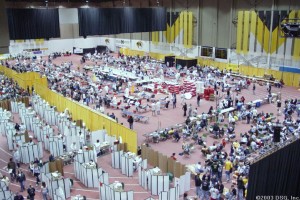 With the help of the systems that Delta Systems Group custom-tailors to every Homecoming and Greek Week blood drive, Mizzou has been able repeatedly to host some of the largest blood drives in the world. Time spent waiting to donate has been reduced to minutes, and in most cases, eliminated.
In addition to reducing wait time, the system monitors the flow of donors in real time during the drive, showing administrators hour-by-hour breakdowns of the number of donors checked through the donation center. After the blood drive, detailed reports are provided to the student organizations and committees showing exactly how many students arrived for their appointments on time and how long it took each student to donate.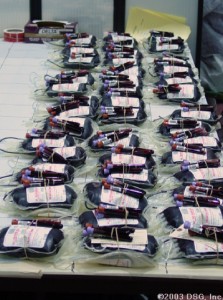 Every year, DELTA continues to refine and improve the Homecoming/Greek Week Blood Drive systems to maximize blood donations. And thanks to the generosity of the UMC-Columbia community, it's a world-class success: In 1999, the blood drive collected 3,156 pints to capture the Guinness Book world record for the largest number of useable units collected in a single day at a single location.