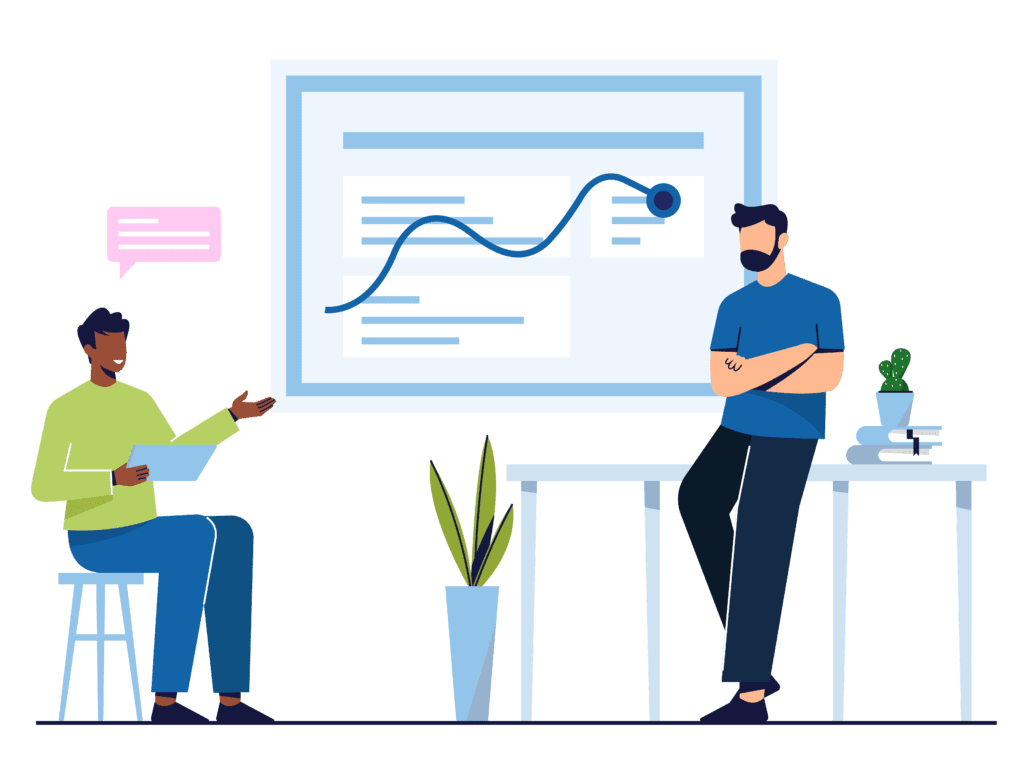 Inflation is a word that doesn't scream good vibes. The rise in the cost of goods and services typically hurts both consumers and businesses alike. When the buying power of the dollar shrinks, consumers see their paychecks not stretch as far, and businesses watch profit margins drop.
At the time of writing this, the U.S. inflation rate sits a 6.04%, which is dramatically higher than what Americans are accustomed to. For decades, the U.S. economy has seen an inflation rate that remained around 2%, with the highest levels in recent years dating back to the early 1980s — when rates peaked at nearly 15%.
In June of 2022, interest rates topped 10%, a level that shocked everyday consumers, concerned business owners, and made economists sound alarm bells. Even as inflation has fallen since then, organizations and consumers are still struggling to balance price increases and profit nosedives. Economic experts still anticipate foreseeable issues with the economy as job openings persist, the Federal Reserve plans rate hikes, and consumer spending remains active. 
The Impacts of Inflation on the Economy
Simply put, prolonged periods of high inflation can generate a negative cascading effect on the economy and all its players. Businesses and their leaders are faced with troubling decisions to make as their revenue numbers shift and expenses increase. From layoffs to cutting services and severing relationships, inflation can put organizations in all verticals in a difficult financial position.
In a bigger macro-view, the impact of inflation on the economy produces several key issues:
Reduced purchasing power: High inflation can reduce the purchasing power of consumers, as the prices of goods and services increase. This can lead to a decline in consumer spending, which can negatively impact businesses and the overall economy.
Reduced investment: High inflation can also reduce investment, as investors may be hesitant to invest in an economy that is experiencing high inflation. This can lead to a decline in economic growth and job creation.
Reduced international competitiveness: High inflation can reduce a country's international competitiveness, as the prices of goods and services become less competitive on the global market. This can negatively impact exports and lead to a decline in economic growth.
Increased interest rates: To combat inflation, central banks may raise interest rates, which can increase the cost of borrowing for businesses and consumers. This can lead to a decline in consumer spending and business investment, further exacerbating the negative impacts of high inflation.
Wage-price spiral: High inflation can lead to a wage-price spiral, where workers demand higher wages to keep up with the rising cost of living, which in turn leads to higher prices for goods and services. This cycle can continue, leading to even higher inflation rates and economic instability.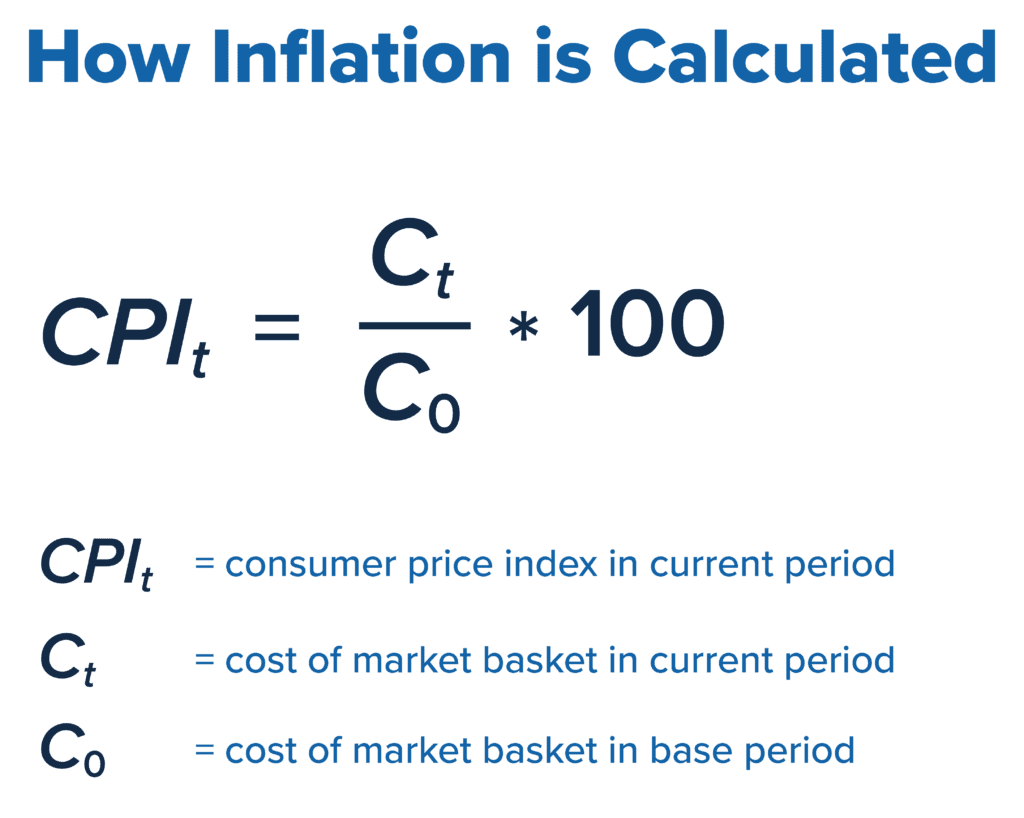 Risks to Cutting Marketing Efforts
So in a high-inflation environment, businesses may be looking for ways to trim costs to make sure the organization can stay out of the red. Cutting marketing efforts is often the first choice businesses opt for during times of inflation. However, this idea can cause more harm than good for several reasons:
Reduced visibility: When businesses cut marketing costs, they may also reduce their visibility and reach, making it more difficult to attract new customers or retain existing ones. This can lead to a decline in sales and revenue, which can exacerbate the effects of inflation.
Lower brand awareness: Marketing helps build brand awareness and establish credibility with customers. When businesses cut marketing costs, they may also reduce their ability to build brand awareness and communicate the value of their products or services. This can lead to a decline in brand recognition and customer loyalty.
Reduced competitive advantage: When businesses cut marketing costs, they may also reduce their ability to differentiate themselves from competitors. This can make it more difficult to compete in a crowded marketplace and attract new customers.
Missed opportunities: During times of inflation, businesses may need to adapt their marketing strategies to stay competitive and meet changing customer needs. When businesses cut marketing costs, they may miss out on opportunities to pivot their marketing strategies and capitalize on new opportunities.
Long-term impact: Cutting marketing costs during tough economic times can have long-term impacts on a business's growth and profitability. By reducing their investment in marketing, businesses may struggle to recover lost ground and compete effectively in the future.
Benefits of Digital Strategies During Rough Economic Times
Digital marketing creates avenues for businesses to remain competitive and cost-conscious during periods of high inflation. With one of the main issues causing inflation being high consumer spending and excess capital within the market, consumer purchasing habits are not going to change overnight.
And as businesses need to bring in more revenue to stay pace with their increased expenses, capturing this consumer interest and spending is key.
Is the relationship between inflation, what causes inflation, and fighting inflation a bit of a contradiction? Yes.
Is it also a bit of an enigma? Yes.
Here are some core reasons why organizations need to continue or double down on digital marketing during challenging economic conditions:
Cost-effectiveness: Digital marketing is a cost-effective way to promote a business, especially during times of high inflation when the cost of traditional advertising channels such as TV, radio, and print media can skyrocket. Digital marketing channels such as social media, email marketing, and search engine optimization (SEO) are generally less expensive and offer a higher return on investment.
Targeted audience: Digital marketing allows businesses to target specific audiences based on demographics, interests, behavior, and location. This enables businesses to reach their ideal customers more effectively and efficiently.
Analytics and data: Digital marketing provides businesses with analytics and data to measure the success of their marketing campaigns. By analyzing data such as website traffic, social media engagement, and email open rates, businesses can make data-driven decisions to improve their marketing efforts.
Flexibility: Digital marketing allows businesses to quickly and easily adjust their marketing strategies to adapt to changing market conditions. During times of high inflation, businesses may need to change their pricing strategies, and digital marketing can help them communicate these changes to their customers.
A Brief Pitch On Different Marketing Services
SEO
Search engine optimization (SEO) is a process of creating, developing, and maintaining a positive website architecture, functionality, and experience — both for search engines and users. SEO services are a smart investment at all times, as organic traffic rankings are critical to seeing your site capture healthy user flow.
During times of inflation, running SEO campaigns and optimization is nearly essential to ensure that your website stays relevant, up-to-date, and visible to searches and their related queries. Even if budget constraints are a factor, SEO is a cost-effective and lower-investment marketing service that can continue to yield steady long-term returns over the course of economic fluctuations.
Content
If you're not making content, you're doing something wrong. Being modern, being digital, means creating unique and engaging content — and at a quick rate. Today, everyone wants more blogs, whitepapers, case studies, infographics, in-depth service pages, etc. to consume.
In the age of the educated buyer, being able to showcase your organization as a thought leader, expert, entertainment source, or whatever your target audience is seeking is the right way to win over their trust and wallet. With content creation arguably being the most important type of marketing at this junction during the digital era, continuing to pump out content during difficult economic times is a must. The beauty of content marketing is that it has a long shelf life in regard to readership value and remains a cost-affordable avenue.
Paid Media
Money talks, and to make it, you have to spend it. Paid media ads, whether that is PPC, programmatic, paid social ads, or any other type, allow for the most direct way to get in the face of your intended demographic.
Paid ads also produce some of the most trackable and direct reporting metrics, so you can have better transparency into how effective your marketing spend is actually performing. When paid ads are working, an organization can see faster results in the form of leads, contacts, sales, etc.
Email Marketing
Nearly everyone has an email, and regardless of how you view it, statistics show it is still an everyday part of consumers' lives. In fact, 99% of email users check their inbox daily, while many pop into it well over 10+ times a day. Email marketing requires little overhead, smaller budgets, and is a dependable nurturing tool.
Running various email marketing campaigns during a period of high inflation can make for a good fit if an organization is looking to maintain consistent direct contact with interested parties. Due to the customization available with email funnels, businesses can continue to move potential leads through the buying stages with little effort or worry on their end.
Organic Social
A social media presence is today's first impression. If an organization doesn't cultivate and curate a personalized persona and message on platforms like Instagram, they are putting themselves behind the 8 ball with many consumers — particularly younger generations.
Running organic social media campaigns at all times is mandatory to help build your brand, showcase your differentiators, and develop a community. Organic social strategy and deliverables present a cost-effective route for organizations to lean on during times of high inflation. The growth of organic social media yields positive momentum as a business puts out more and more engaging content.
Why Marketing is a Necessity, Not a Luxury
Today there are a dime a dozen businesses of nearly every good and service. Consumers have a catalog of options to choose from. Differentiating and building brand loyalty is the best bet organizations have to survive in an environment of sink or swim.
And when consumers are inundated with constant ads, blogs, graphics, and every other marketing collateral, capturing traffic and sales can't just depend on word of mouth — it just isn't enough firepower in our digital age.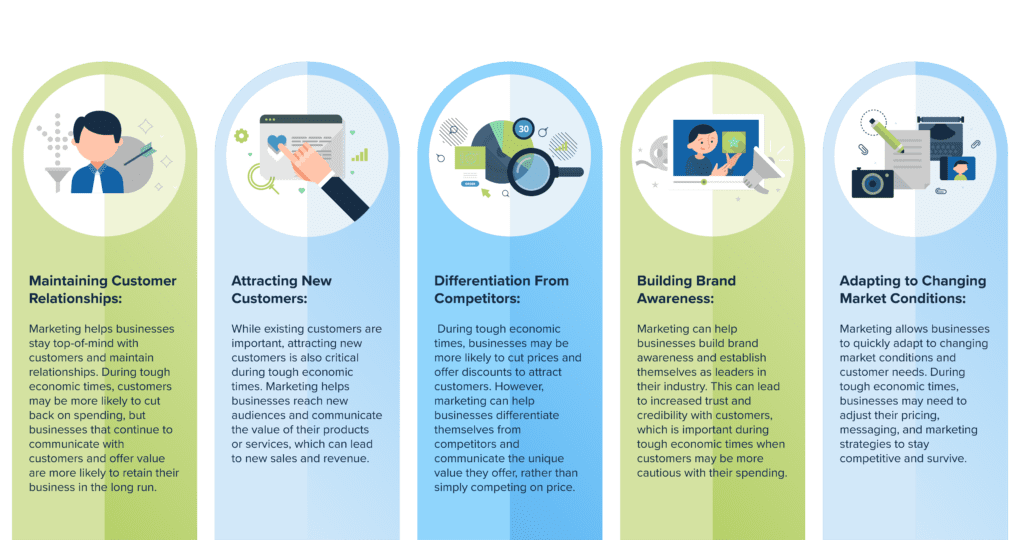 Here's why marketing more during times of high inflation and tough economic times is critical:
Maintaining customer relationships: Marketing helps businesses stay top-of-mind with customers and maintain relationships. During tough economic times, customers may be more likely to cut back on spending, but businesses that continue to communicate with customers and offer value are more likely to retain their business in the long run.
Attracting new customers: While existing customers are important, attracting new customers is also critical during tough economic times. Marketing helps businesses reach new audiences and communicate the value of their products or services, which can lead to new sales and revenue.
Differentiation from competitors: During tough economic times, businesses may be more likely to cut prices and offer discounts to attract customers. However, marketing can help businesses differentiate themselves from competitors and communicate the unique value they offer, rather than simply competing on price.
Building brand awareness: Marketing can help businesses build brand awareness and establish themselves as leaders in their industry. This can lead to increased trust and credibility with customers, which is important during tough economic times when customers may be more cautious with their spending.
Adapting to changing market conditions: Marketing allows businesses to quickly adapt to changing market conditions and customer needs. During tough economic times, businesses may need to adjust their pricing, messaging, and marketing strategies to stay competitive and survive.
Steps Businesses Can Take During Inflation Periods
While marketing is essential during high inflation, organizations have options to run in conjunction with their advertising that can help alleviate the pressure and financial strain that accompanies rising prices.
Here are other ways businesses can adapt during times of economic fluctuation:
Reassess pricing strategies: Organizations may need to reassess their pricing strategies to ensure that they are still profitable. This may involve raising prices, introducing new pricing models, or adjusting discounts and promotions.
Streamline operations: Businesses can reduce costs by streamlining their operations and eliminating unnecessary expenses. This can involve automating processes, outsourcing non-core functions, or negotiating better deals with suppliers.
Explore alternative revenue streams: During times of high inflation, businesses can explore alternative revenue streams to diversify their income and reduce their reliance on a single product or service. This may involve launching new products, expanding into new markets, or developing new business models.
Increase efficiency: Businesses can increase efficiency by improving their processes, investing in technology, and training employees. This can help businesses reduce costs, improve quality, and increase productivity.
Focus on customer retention: During tough economic times, customer retention becomes even more important. Businesses can focus on building strong relationships with existing customers by providing exceptional customer service, offering personalized experiences, and communicating regularly.
Ready to Combat Inflation?
Discover what marketing strategies will benefit your business best during uneasy economic times. Connect with your target audience and stabilize your lead flow as inflation runs its course. Let's discuss your needs and keep you on track.