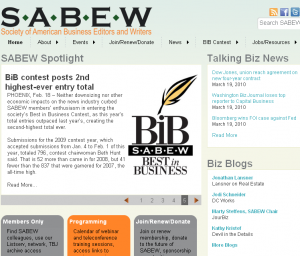 The Society of American Business Editors and Writers has partnered with Delta Systems for over 10 years. In the early days, Debin Benish trained Carrie Paden and her staff on the use of Microsoft Access.  Seeing that their time would be better spent on serving their thousands of members, SABEW turned to Delta Systems to build a membership management system, a conference management system, and a system to handle the hundreds of entries they receive to their annual "Best in Business" (BiB) contest.  The latest iteration of these systems is now online at SABEW.org. Members can now renew their membership directly online, view member-only content, as well as submit entries to the BiB contest as well as handle the judging all online.
Based on WordPress, Custom Built Plug-ins
Delta Systems used a unique blend of off-the-shelf and custom designed systems. WordPress was used to handle the front end content displaying. A custom WordPress plug-in was built to handle the image carousel on the homepage.  Another custom WordPress plugin was built to handle the contact form.  The site also directly integrates RSS feeds from Talking Biz News and several other business journalism related blogs.
New Website Features Include:
Completely powered by WordPress
Membership management system
Conference management system
Online Contest Submission system
Contest Judging system
Custom WordPress plugin to more easily handle content in the image carousel on the homepage
Completely integrated Google Analytics
Great Search Engine Optimization features
WordPress Experts
As an early adopter, Delta Systems has the most experience building and hosting WordPress powered websites of anyone in the area. And just in case there isn't already a plugin built to make WordPress do exactly what you need, we are experts in building WordPress plugins as well. Ask around and you'll find out why we're the best. We have an extensive list of references.
Need something done? Just Call Delta
Delta Systems is a full-service computer consulting company with a suite of in-house development, design, and computer network support talent.
Building online applications and data management systems that are intuitive yet powerful is our specialty.
Give us a call and find out why over 800 companies have trusted Delta Systems with their networking, online, and programming needs since 1986. Ask around.
You'll hear people say, "Just call Delta" so much that we made it our website – http://JustCallDelta.com