Quality ADA Compliance promotes equitable access for all users.
*If you know you need help with your site's ADA compliance, schedule a free consultation today
The Importance of an ADA Compliant Website
The Americans with Disabilities Act enforces equitable access for millions of individuals with disabilities. When it comes to website access, there are many opportunities for promoting equal accessibility standards and appropriate public accommodation. In some instances, websites missing ADA compliance standards can even be vulnerable to litigation.
ADA website compliance is necessary, but it also makes your website usable for people with disabilities. For example, blind users can successfully run assistive technology like a screen reader on a site that utilizes appropriate tags and alternative text. A compliant website can promote business to any market and makes it easier for all users to access the same information.
The Elevato team has years of experience transforming sites to meet ADA accessibility compliance standards.
Who Benefits from ADA Compliant Websites and How?
Web accessibility utilizes a variety of tags and digital markups that allow disabled users to access information in an alternative or enhanced way, directly or indirectly, with additional tools like screen readers. These disabilities can include:
Visual
Auditory
Cognitive
Neurological
Physical
Speech
Pages with ADA website compliance in mind also benefit others without disabilities. This can include mobile device users, the elderly with changing abilities, environmental situations such as looking at a screen in bright lights, or even site visitors with low bandwidth internet access.
Ways to Make a Website ADA compliant
Add Alt Text for all images
Organize heading and page titles
Form fields for search bars and forms
Keyboard only functionality
Transcriptions for auditory media
Increasing contrast to make text more legible
Optimize page structure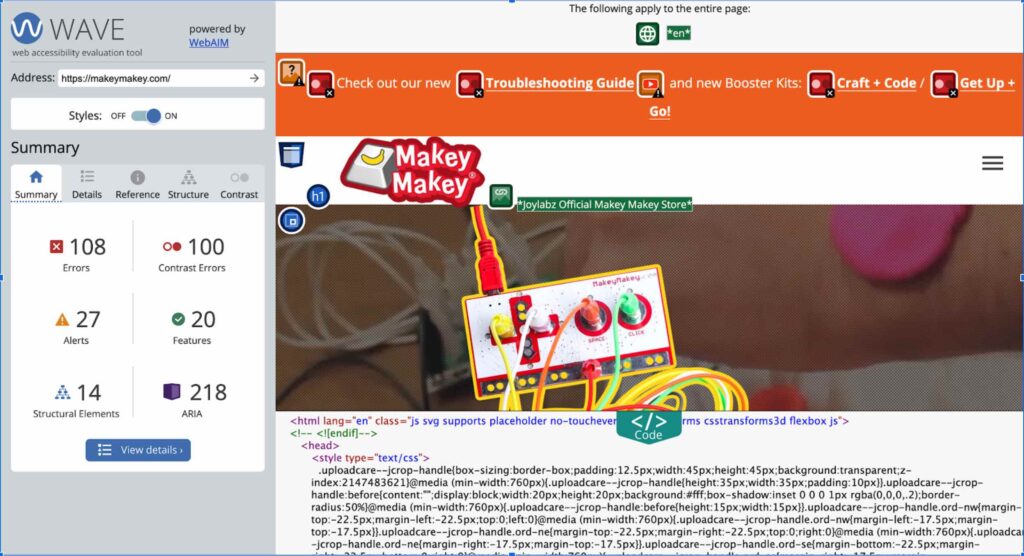 4 Steps to Making a Website ADA Compliant
1 – Site Scan Page by Page
We look at every core page of your site including post types within your theme. We document all we find and make a plan to address the most important issues.
2 – Make the Fixes
We go item by item from the highest priority and start impacting ADA compliant changes to your pages. Focusing on what will make the biggest impact for users and future scans.
3 – Rescan
We rescan all the core pages again and document the improvements with before and after images to show the differences and results.
4 – Discuss Scans and Plan Any Future Work as Needed
With our ADA compliance package, we are able to make most sites very ADA compliant. But, in some cases, more work may be needed for particularly large or complex sites. If this is the case, we present the remaining opportunities and lay out a plan to address them as an additional project.
The Elevato Difference
Here's what you can expect from a proper ADA compliance website project.
Two Accessibility Scans
We perform one full scan, page by page, at the beginning of your accessibility audit and another full scan after implementing the Elevato Strategy. During each scan, we provide Level A corrections of all critical errors and offer helpful suggestions for all remaining errors. The two-part scanning process ensures that your entire site is fully vetted.
In-Depth Recommendations
We focus our efforts on Level A compliance issues. Level A is the minimum level of accessibility requirements with the most basic level of web accessibility features required by the ADA. Our team immediately addresses all Level A violations. Then, we highlight the remaining violations and offer suggestions, guides, and tips for fixing these issues.
We utilize the Web Accessibility Evaluation Tool (WAVE) during both scans During both scans to identify non-accessible site features. Additionally, Google Lighthouse is used as a secondary report to verify all fixes and confirm that we've corrected all significant violations.
We dedicate hours to your site — referencing and fixing all major accessibility issues. Our strategy is comprehensive as we strive to deliver the specific services your site needs. Here are our 4 steps to making your website ADA compliant.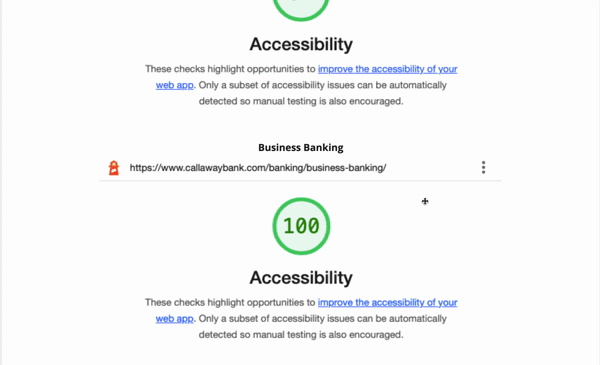 We test your site page-by-page assessing all home, product, service, about us, and contact pages until we've examined the entire site by ADA and WCAG 2.0 standards. Our team fixes what they can and identifies what we can't. Often, one expert fix can lead to positive fixes elsewhere on the site. Our feedback on recommended corrections is essentially a custom accessibility checklist to raise your future compliance level even higher. 
The goal for every client site is to reach an accessibility score of at least 90%.
Comprehensive Documentation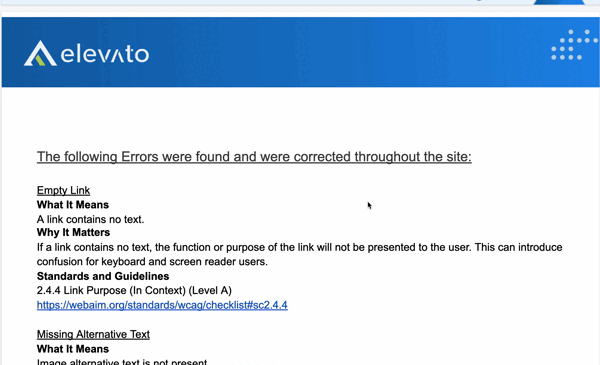 After our team completes your ADA compliance audit, you will be given documentation showing the implemented changes. This documentation is evidence of serious and deliberate efforts made to comply with ADA compliance. This allows you to show litigators proof that your business has invested in meeting ADA technical standards and assists you in avoiding accessibility lawsuits.
Types of ADA Corrections
There are many opportunities for violating accessibility guidelines, but the Elevato team has years of experience correcting faulty sites. Our digital accessibility experts are dedicated to improving your site for future user agents. From visual content errors to inappropriate page background color to non-descriptive html tags – we're familiar with a plethora of violations. The following are some examples of fixes identified and corrected by our team.
Create alt text for all visual elements. All non-text content should be described accurately and consistently via alt text for disabled users with screen readers.
Optimize form fields and search bars. These functions may not have ADA compliant markup, so the form won't exist for assistive devices – all they'll receive is an input error.
Implement sequential heading order. All heading should be in the proper order for screen readers.
Fix or identify empty links. Not only are empty links ADA non-compliant, but they also decrease site performance.
Address ARIA errors. These technically complex errors need to be correctly formatted to meet ADA requirements.
Extra Benefits of Quality ADA Compliance
There are a wide variety of perks to reaching ADA compliance beyond promoting accessibility and avoiding litigation. An Elevato ADA-Compliant website audit can launch the following:
General Site Improvements
Note that bigger sites are at more risk for ADA litigation, but after partnering with the Elevato team, you will see general improvements site-wide. Both in compliance and functionality.
Increase Site Performance
Several ADA fixes and suggestions also typically strengthen site performance. These fixes may include restructuring headers and improving page layout.
Reduce Redundancy
The day-to-day building and management of your site often results in duplicate information and a confusing user interface. The by-product of a quality ADA audit investigates and corrects redundancies.
Implement Management Improvements
There are various options for website improvement that you could implement but typically don't have the capacity to pursue. An ADA audit is an excellent time to execute those management improvements that also happen to be ADA compliant.
Uptick in Site SEO
The general improvements in site structure and content may result in increased site-wide search engine optimization and help search engines rank your site. eCommerce sites also may see a noticeable expansion in customer base due to increased SEO and accessibility.
Ready to Make Your Website ADA Compliant?
Elevato is poised to take your site from an at-risk, non-compliant state to a higher-functioning, secure, and accessible platform for users with disabilities.
Schedule a consultation today to discuss improving your site's ADA compliance.