Rose Ditter has won the 2009 Debin Benish Outstanding Businesswoman Award. The award was presented by the 2008 winner, Kim Trabue, at the 2009 Columbia Chamber of Commerce Annual Meeting & Awards Banquet. The award comes as an engraved picture frame coupled with a $1,000 grant.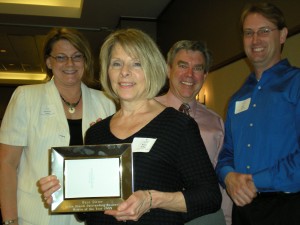 You can see all of Wally Pfeffer's photo from the event
Kim Trabue's Presentation Speech
It is my honor to present the 5th Annual Debin Benish Outstanding Business Woman Award tonight. For me this award was a wonderful validation of my administrative management degree and the many years of juggling life issues of the "real world."
Balancing work and home and service is no easy task, but Debin Benish showed everyone who met her that it is right and good to reach for that balance. Like a three-legged stool we need all of the parts to be complete. She started her own business, Delta Systems, at a time when women were not encouraged to venture out on their own, not to mention in a technology field. She taught many people in this community to embrace technology, integrate it into our businesses, have fun with it, and grow with it.
I had the great fortune to learn from Debin herself. She didn't make fun of me when I started at PWA and my computer experience dated back to COBOL programming punch cards. She did encourage me to push further, try harder, and to keep learning. She made herself and her talents available through many networking outlets. She was always willing to answer a question, find an answer, or make up something that would work in the meantime. Debin taught me that it's important to break down anything that seems overwhelming into smaller, manageable parts. And that sometimes a good laugh just helps put things into perspective. Like many people I miss her honest candor and fun attitude.
Debin Benish was a strong business owner and a generous community mentor. Willing to travel to Washington to give voice to independent businesses, she didn't shy from big challenges either.
With the support of Steve Powell, the current owner of Delta Systems, and Debin's husband Dave Benish, Women's Network continues the encouragement of Debin's smile with this memorial award and $1,000 grant. This award is designed to honor a Columbia Business Woman who:
Exhibits leadership in supporting small business
Has a record of volunteering in the community
Is a mentor to other business women, and
Owns or is employed by a Chamber-member business, preferably a Women's Network member
As I was talking about Debin, I described someone willing to teach, willing to learn, willing to give, and very energetic. That description also applies to this year's award recipient. In fact, her friend told me that she is the real Energizer Bunny, never running out of energy.
This year's recipient has owned, operated, and expanded an iconic Columbia business for over thirty years. She has served her national trade association as president, and she is picky about the quality of the delivery of her profession. She teaches classes at a national level, as well as meticulously training each of her own employees. Not only is her technical expertise appreciated, but her business acumen is well respected. She has adapted her business plan to stay current with changing trends, and her success led to a position on a local bank's Advisory Board of Directors. The president of that bank said, "…she has demonstrated her ability to not only comprehend the banking business but to openly promote and attract clients to our bank through her leadership and broad-based community involvement and networking."
Even as a busy business owner, she has stayed involved with community volunteering, especially as it relates to youth, through the Columbia Catholic Youth Organization, Columbia Senior All-Night parties, Boy Scouts, and Girl Scouts.
She enjoys time with family and friends through church activities, King's Daughters, MIZZOU sports events, and camping. I've heard that she has wonderful children and grandchildren, and I hope she accepts that as what I believe to be the best compliment any woman can receive.
I've also heard that her personal passion is biking and that she has ridden a good way across her home state of Iowa.
In 1983 she received the Outstanding Young Business Person of the Year Award from the Columbia Jaycees. She must have been inspired because she has continually approached life and business with a giving spirit and has helped many people along the way.
In 2009 it is my honor to present the Debin Benish Outstanding Businesswoman Award to Rose Ditter.
About the Columbia Chamber of Commerce Annual Meeting & Awards Banquet
The Columbia Chamber of Commerce helds its 104th Annual Meeting & Awards Banquet the evening on June 2, 2009 at the Reynolds Alumni Center in the heart of the Mizzou campus.
Rose Ditter was recognized with the 2009 Debin Benish Outstanding Businesswoman Award, Michele Spry received the Ambassador of the Year Award and the Outstanding Citizen Award was presented to Lynda Baumgartner. Lynda won the 2007 Debin Benish Outstanding Businesswoman Award.
You can also read the Chamber's July 2009 newsletter article about the award