Your business needs to draw in more target customers and impress them with a quality website. This website will need to perform a breadth of functions and it will need to change and adapt for future needs. The functionality and caliber of your website development will determine how well your site can help you achieve these business goals. This article will help you decide whether outsourcing vs in house development of a website will help you achieve these goals.
The Value of Quality Website Development
A top tier website development team can make your platform one of the premier sites in your industry. A well-developed website will promote your business in many ways, including:
Confirming for visitors that you are a legit business as most users interpret poor website quality to be a scam
Giving a good first impression to prospective clients and potential leads.
Converting more leads.
Building trust with clients as the site continues to function well and look great.
Leading directly to more sales as the new user-interface guides clients to purchasing.
Building a repeat clientele base.
These positive results can be achieved in two ways, which have distinct advantages. Either develop your website in-house or outsource the task. Read on to learn all about development vs outsourcing options and formulate the best plan for your business.
What is Outsource Website Development?
Outsourced website development is when your business hires another company or individual to develop your website for you. The exact process and methodology can take shape in various ways. For example, some companies specialize in very specific types of web development, while some are broader and can take on lots of different projects.
What is In-House Website Development?
In-house website development is when your business chooses to task out the site development process to existing employees. This could be in the form of current web developers, web designers, or other members of your development team. In-house web development is a part of your employee's current workload.
Outsourcing vs In-House Development of a Website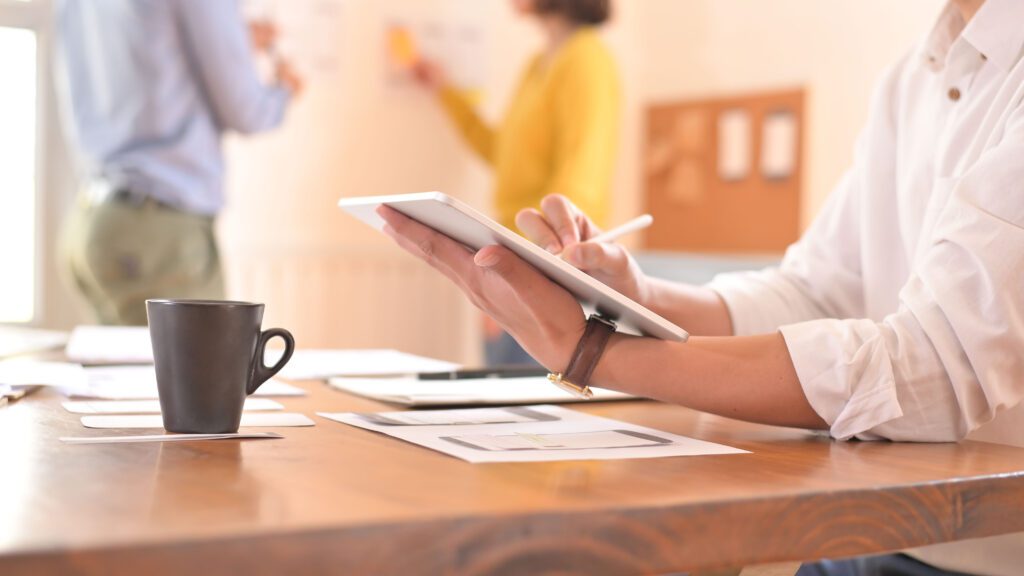 There are many aspects to consider when choosing between outsourcing your website development or handling it in-house. The most important aspects are detailed below.
Ability
Do you have existing workers who are capable of fully developing your website? Do you know what your new website will require and how to hire the right full-time in-house development team for the task?
One of the most advantageous aspects of going with a web development company is that you don't have to worry about ability. Once you've vetted the right company, you can rest assured in their expertise and specialty.  
Communication
Internal team communication is simple and fast since the team is right there in your shared in person or virtual office space, reporting at all hours of the work day. Keep in mind that any pain points or existing communication gaps with your in-house software development team will likely continue through the web development process.
You may need to be more aware of time zone differences with an outsourced team of developers. For example, a company in eastern Europe may be on a different schedule than you. However, a top-tier outsourced company will be able to keep you fully updated every step of the way, and the best teams will have one source of contact like a project manager for any and all questions you may have. The key to effective communication is finding the right company to work with.
Turnaround
Say you do have a stellar team of qualified developers, and they have a history of excellent work. In-house software development may seem to be the best choice for your company. However, these employees have a full workload of existing projects and clients and may be hard-pressed to fit in full website development. Make sure to have in-depth conversations with your existing team on capacity and expectations.
You want to avoid ending up with a website completed months behind schedule. Further, you may not want to put your team's current workload on hold or behind schedule. It may be advantageous to go with an outsourced company to avoid this situation.
Costs
A good rule of thumb is that in-house, fully serviced web development is usually more expensive than outsourced software development costs. There are exceptions to this rule, and quality work is always more expensive, regardless of where it comes from. Further, affordable prices vary severely from business to business. Business owners need to decide what their budget is. The simple answer here is that costs will vary. It's best to reach out to outsourced companies, explain your project needs, and ask about expenditure.
Pros and Cons of Outsourcing and In-House Web Development
Here's our main list of common benefits and disadvantages between outsourcing vs in house development of a website.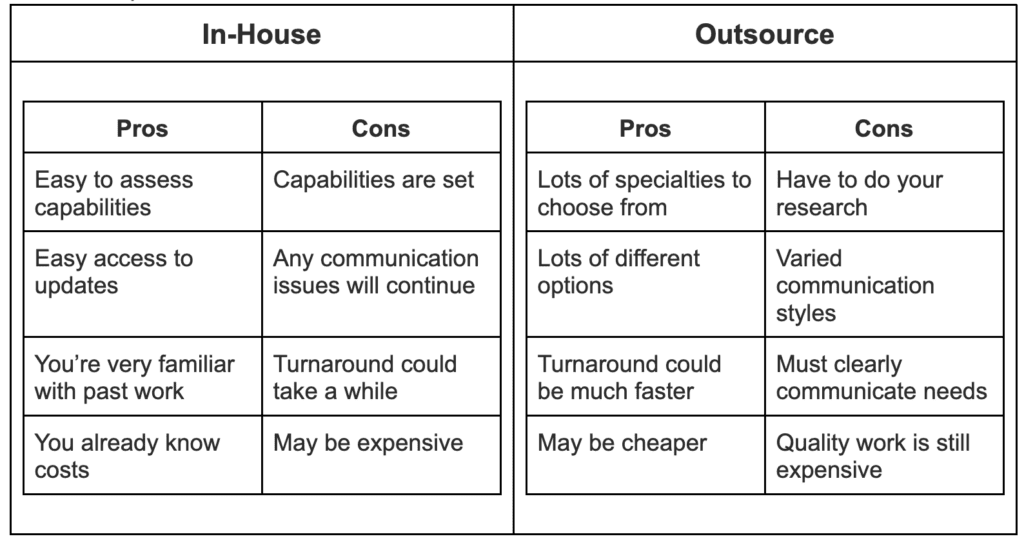 FAQs on Web Development Outsourcing
Here are some commonly asked questions on web development outsourcing, along with the answers you've been looking for.
Should I be concerned about offending my in-house web developer if I outsource?
Just make sure to communicate clearly and consistently with your in-house developer. Often, an in-house team can supplement or guide an outsourced company, so you won't need to be concerned about stepping on anyone's toes.
What should I do if I don't have an in-house team and I'm not sure what work my website requires?
Ask questions. The best way to get an understanding of a company's capabilities is by asking for past work and what kinds of projects they take on.
What questions should I ask a prospective outsourced company?
Ask for their portfolio. Request for an example of a past company they had to part ways with before project completion. Ask for a typical turnaround time. There are no bad questions when you're getting to know a new web development company. 
How long does website development typically take?
The length of the project will depend primarily on your needs and budget. Make sure to be up-front with the web developers about all your site's needs. They will be able to give you a general timeline.
Superb Web Development with Elevato
Our team of top-tier web designers would love to talk with you about your project. Even if you just have questions and aren't yet sure about outsourcing – we're passionate about innovative projects, user-friendly interface, and helping our clients succeed, so we'd love to talk. Contact us today for a consultation.