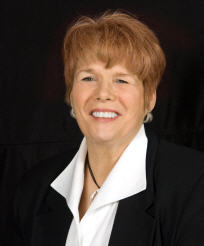 Karen Miller has won the 2010 Debin Benish Outstanding Businesswoman Award
The award was presented by the 2009 winner, Rose Ditter, at the 2010 Columbia Chamber of Commerce Annual Meeting & Awards Banquet.  With the support of Steve Powell, the current owner of Delta Systems, and Debin's husband Dave Benish, Women's Network continues the encouragement of Debin's smile with this memorial award, an engraved picture frame, and $1,000 grant. This award is designed to honor a Columbia Business Woman who:
Exhibits leadership in supporting small business
Has a record of volunteering in the community
Is a mentor to other business women, and
Owns or is employed by a Chamber-member business, preferably a Women's Network member
About The Award and Our Winner
Debin Benish started Delta Systems Group at a time when women were not encouraged to venture out on their own, not to mention in a technology field. During her 18 years in business, Debin and her staff trained thousands of people in Mid- Missouri on many different software programs and provided computer network support to hundreds of companies.
In addition to achieving great success in her company, Debin was actively involved in the Chamber and Women's Network. She served on the Chamber Board of Directors, Accreditation Task Force, Business Conference and Showcase Committee, Government Affairs, Education, Leadership Columbia, Women's Network Business Owners Committee, and Ambassadors.
Debin had a philanthropic heart. She and the Delta Systems staff quietly assisted many charities and non-profits with their technology needs, such as the Central Missouri Food Bank, as she served on countless technology committees and boards. Among the most noteworthy accomplishments is the revolutionizing of the registration process for the biannual MU blood drives by creating the system that is still used to this day to assist in minimizing donor wait times. For all these reasons and her corporate mantra of providing excellent customer service and caring for projects, the Chamber honored Debin and Delta Systems as the 1992 Small Business of the Year and again in 2005 as a Small Business of the Year Finalist.
To honor Debin's memory of volunteering and supporting small businesses, the Women's Network, in conjunction with Delta Systems Group, has selected Karen Miller as the 2010 Debin Benish Outstanding Businesswoman award recipient. Karen has proven her leadership abilities time and time again. She developed her leadership skills through her experience when she owned and operated "The Establishment," a restaurant and bar. She not only ran a successful business but she also served on the Missouri Restaurant Association State Board for eight years.
Since 1992 when Karen entered the political circuit as District 1 Commissioner for Boone County she has continued to exemplify leadership. Karen has been instrumental in uniting the City of Columbia and Boone County on common issues that unite us. In 2003 she was elected to the esteemed position of President of the National Association of Counties. Prior to achieving this role, it had been held by men and occasionally by a woman from a metropolitan area. Karen was the first President from a small to medium size county and utilized a network of women from all across the country that admired her leadership skills and work ethic. She ensured these women were brought with her to appointments on committees where she knew they would be extremely beneficial. Karen used her position to promote concerns of rural America for health care, infrastructure development and education.
Karen has served on the Women's Network Steering committee and is actively involved in the Columbia Chamber of Commerce. She assisted with political campaigns such as Roger B. Wilson's bid for Lieutenant Governor and the late Donna Crockett who was elected as Columbia City Councilwoman. Karen is definitely a change agent! One example is her role each year volunteering for the Dolly Parton Imagination Library. This organization promotes literacy from the time a child is born until they turn 5 years old. She didn't just give it emotional support but went into action with the idea of hosting an annual Mother's Day brunch with 100% of the proceeds benefitting the Imagination Library. For all of these reasons and many more, Karen Miller was honored as the 6th annual Debin Benish Outstanding Businesswoman Award recipient, at the Columbia Chamber of Commerce annual dinner on June 2, 2010.
— The story above will be in the July 2010 Chamber's newsletter article about the award.
About the Columbia Chamber of Commerce Annual Meeting & Awards Banquet
The Columbia Chamber of Commerce helds its 105th Annual Meeting & Awards Banquet the evening on June 2, 2010 at the Hilton Garden Inn Conference Center.
Karen Miller was recognized with the 2010 Debin Benish Outstanding Businesswoman Award, Tom Trabue received the Ambassador of the Year Award and the Outstanding Citizen Award was presented to Karen Taylor.
You can also read the Chamber's newsletter article about the award
Read more about the Columbia Chamber of Commerce Annual Meeting in this Columbia Business Times story about the award.