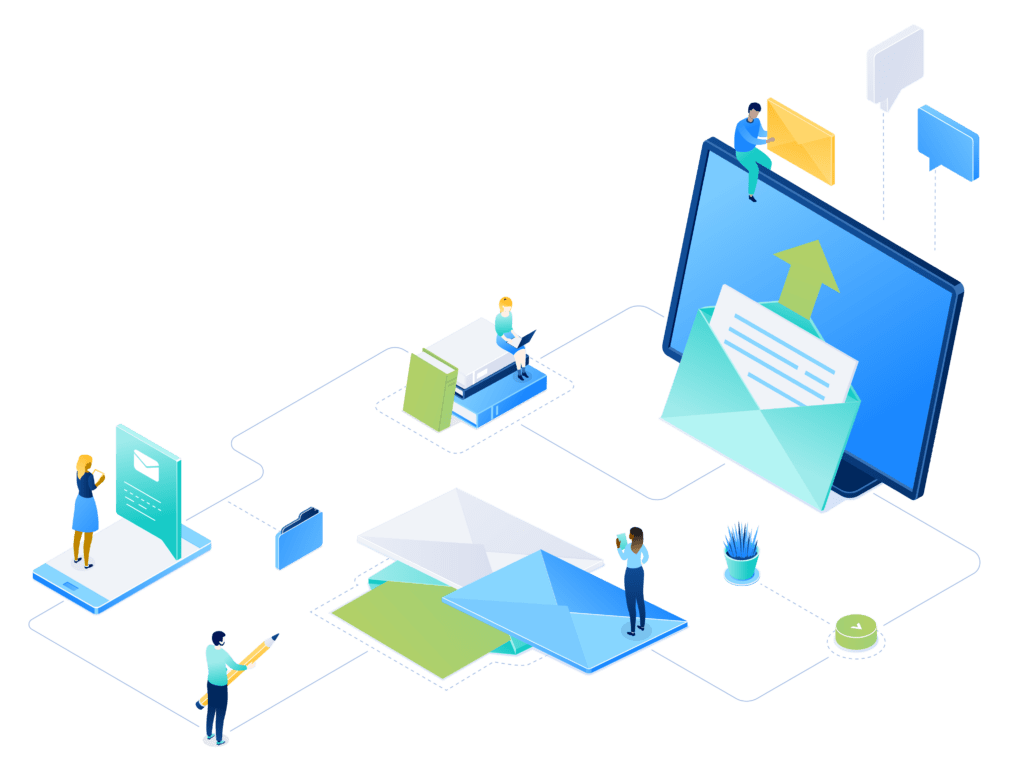 As an enterprise, you likely have brand visibility and a healthy arsenal of customers. But you still need marketing to build your brand and grow your relationships.
You're likely using an omnichannel marketing approach with multiple resources to find new customers, and you may be tempted to ignore your email list. Resist the urge. With 4 billion users, enterprise email marketing campaigns remain a successful strategy for finding, nurturing, and converting new leads.
The Importance of Effective Enterprise Email Marketing
Along with the volume of users, email marketing is a strong contender in terms of return on investment, with an average of $36 for every dollar spent. At 35.5%, email offers a high open rate, which can improve with personalization.
Email marketing services are a great way to promote deals, offer perks to your best customers, and keep people informed about your company. It's a versatile relationship-building tool for maintaining current customer relationships and building new ones.
Although social media, video marketing, and other digital channels have made strides in effectively communicating with customers, an email marketing platform is still one of your most valuable marketing tools. Here's why. 

Growing Customer Loyalty
Because emails are easy to personalize, you can effectively use them to connect with your customer base. In 2023, personalization stands out as one of the best ways to generate customer loyalty. Segmenting your email list based on your customer and their unique needs allows you to create special offers that make your list a hot ticket. Some of the ways email marketing tools builds loyalty include:
Delivering relevant messages
Adding value to a loyalty program
Encouraging repeat business
Using your list to send out birthday offers or exclusive rewards for big spenders adds value to your list and encourages more people to sign up. When you take the time to understand what your customers want and use email marketing features to give it to them, you help build a trusting relationship that inspires loyalty.
Here's an example, Netflix once enjoyed dominance on the streaming front but now finds itself in a crowded market as more media companies jump into the pool. To encourage loyalty, Netflix's marketing automation regularly sends customers emails with personalized streaming recommendations. Each email contains a marquee title tailored toward the customer's viewing habits, along with a wide selection of other titles that are coming soon. If a Netflix customer finds their recommendation interesting, they can click a button to have the app remind them when the show is available to watch.
You can implement this tactic at your own company by testing various messages to see which ones get the best response from existing customers and leads them to a landing page builder. Use existing data and shopping habits to find the offers your users would find the most enticing.
For example, if you run a well-known clothing brand, use a customer's past purchases to recommend similar items that are currently on sale and couple the message with a call to take action and shop now before the items are sold out.
Delivering Important Messages
An enterprise email marketing solution goes deeper into your client-brand relationship by keeping customers in the loop. You can send emails to share:
Big news such as ownership changes or opening and closing store locations
Product launches
Special-event invitations
Important company milestones
Communicating with your customers regularly helps them remember you, particularly when they're ready to purchase what you offer.
Consider a big purchase such as a car. Your dealership does not terminate the relationship once you've purchased a car. Instead, it likely contacts you with maintenance reminders and service tips that can keep your investment on the road longer. The business may also send you the occasional deal in case you're interested in trading in your car for another one later on.
If you take the car into the same dealership for maintenance, it may also send updates, satisfaction surveys, and other information. This personalized communication is a critical part of creating a lifelong customer who returns to the dealership when they need another car.
Email marketing platforms are also important during service failures. Many customers base their loyalty on your customer service, so when your service fails, it's important to get it right. With email, you can work closely with the client to apologize and fix the situation.
Managing Segmentation and Communication
As a large brand, you likely have a diverse customer base with varying needs. Your most loyal customers have different expectations than casual customers who shop with you only on occasion. You may also have customers whose needs vary based on what they buy.
For example, if you run a department store and sell multiple products, some of your customers may browse the whole store, while others will home in on one department, such as cosmetics or men's clothing. Enterprise email marketing gives you the ability to distinguish between these groups and personalize your communication.
Many email marketing platforms give you the ability to divide your list into segments based on how a user interacts with the email. In our department store example, you might send out a generic email with summer deals throughout the store. If you've enabled click segmentation on the back end of your email campaign, customers would be sorted into different lists based on which parts of the main email they click. Some ways you can segment your customers include:
Length of time as a customer
Average dollar value per transaction
Average lifetime value
Age, location, or other demographic information
You might also use a customer's loyalty data to send targeted emails. For example, customers who join Target's Circle Rewards can enter their phone number each time they check out to earn points for future purchases. You can access their purchase history from such a program to create personalized offers that compel your customers to come back and shop for the merchandise that interests them.
Segmenting also lets you use effective language that resonates with recipients. If you have a separate list of existing customers and new leads, you can create different campaigns to introduce yourself to new users and explain how your product or service benefits them. Your existing customers don't receive these messages, so they don't have to spend time opening irrelevant messages.

Maximizing ROI and Conversion Rates
Email marketing is a cost-effective channel with a high ROI. On average, email has a click-through rate of 2.6%, but you can raise this statistic by personalizing your emails and being strategic with your messaging.
Segmenting your list and creating targeted email campaigns can effectively boost your conversion rates. If your email list is generating $36 for every dollar spent, each successful campaign will impact your business. For example, if you spent $250 on an email campaign, your business would grow by $9,000.
Although this ROI statistic varies based on the size of your email list and your industry, email is a successful digital marketing tool for most businesses. Even if you don't generate an ROI of $36 per dollar spent, you will still likely make money on your email list. 
This does depend on whether you're using the best email marketing software for you or tailored email marketing service campaigns. An email marketing automation tool can also play a significant role in optimizing your ROI.
The Power of Data and Analytics
Access to analytics reports is another valuable part of enterprise email marketing. With these reports, you can learn from each email campaign and use the data to improve. Analytics reports go beyond open rates and click-through rates.
You can look through each email to see which parts were most effective. Most email platforms will show you how people engaged with different links on your site. You might find that what you thought would be a desirable offer was mostly ignored by your customer base, which was actually more interested in a different part of your email.
With these tools, your sales and marketing teams can refine your language and strengthen your calls to action to encourage more clicks.
By segmenting your email list, you can also perform A/B tests with each campaign. Choose a smaller group of people in each segment to serve as the test group and send out slightly different messages to these small groups. You might change a subject line or add a different call to action. After launching each email, track which one receives the most interest and use that information to create your final email.
Important metrics include:
Open rate
Unsubscribe rate
Bounce rate
Click-through rate
ROI
Total investment
Work With Elevato Digital for Enterprise Email Marketing
Email marketing is still a successful tool for building your brand and growing your business. This tool lets you target more than 4 billion email users across the marketing and sales funnel, yet it's affordable and cost-effective. With a high ROI, email remains an easy and efficient way to build a relationship with current customers while generating new leads.
You're not in it alone. Elevato Digital is a full-service digital agency whose experts are ready to help you navigate the nuances of email marketing. We can work with you to launch campaigns that speak to your users. We're also familiar with newer enterprise email marketing solutions, including BARD, Google's AI-powered content generator. We're here to help you make sense of your options and craft successful messages that will boost your bottom line. Schedule your free consultation and grow your business today.