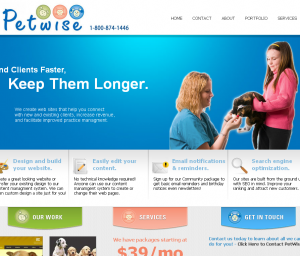 Delta was asked to create a new "service centric" look for http://www.petwisewebsites.com
They liked our solution so much, they then asked us to design 5 additional templates for their clients that use Petwise for their veterinary practice online presence.
Need something done? Just Call Delta
Delta Systems is a full-service computer consulting company with a suite of development, design, and computer network support talent.
Building online applications and data management systems that are intuitive yet powerful is our specialty.
Do we build simple websites too? You bet. And we do it well using WordPress, Drupal, Expression Engine, and custom solutions.
We also have experts in Microsoft Access Development, EXE development, product commercialization, training on all major software, and more.
Give us a call and find out why over 800 companies have trusted Delta Systems with their networking, web, and programming needs since 1986. Ask around.

You'll hear people say, "Just call Delta" so much that we made it our website – http://JustCallDelta.com